THE OFFICIAL
FAIRTEX

RETAIL AND WHOLESALE WEBSHOP
This is the official website from Fairtex apparel here you find the latest Fairtex t-shirts, hoodies, accessories and all kinds of Fairtex fight wear.

All Fairtex sportswear is manufactured in Fairtex own sportswear factory, and from the same high quality as you can expect from the Fairtex fight gear.
Become a Fairtex distributor and register your wholesale account now!
If you are a sports shop, fight shop our gym owner you can register your Fairtex wholesale account with us. We guarantee you the best prices, and we can discuss the exclusive distribution for your area.
All Fairtex t-shirts, accessories and fight wear at or website we have in stock and ready to be shipped. We ship worldwide with DHL Express for the cheapest rates available. At the bottom of this website you can subscribe to our monthly Fairtex newsletter and be notified about end of season sales and special deals.
FAIRTEX 50 YEARS ANNIVERSARY T-SHIRT LIMITED EDITION
2021 is Fairtex 50 years anniversary, and we celebrate with launching some cool anniversary tees. These t-shirts are only available in limited editions. We launch 4 designs throughout 2021, one at each beginning of the new season.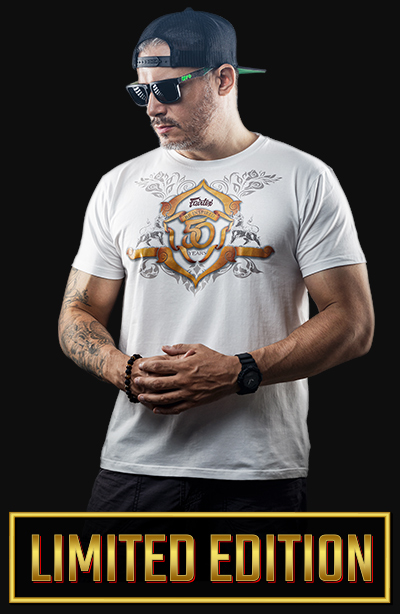 Fairtex delivering Muay-Thai Champions for over decades
Fairtex trains Muay-Thai fighters since 1971, and have delivered numerous champions in all kind of divisions and organizations worldwide. Above some of Fairtex top fighters from which all are fighter t-shirts available in the websop. When you want to see more about the Fairtex fighters or when you want buy their fight t-shirts you can visit their personal pages on our site or go to their social media profiles.