THE OFFICIAL
FAIRTEX

RETAIL AND WHOLESALE WEBSHOP
Welcome to the official Fairtex apparel website. We have our complete catalog of the latest Fairtex t-shirts, hoodies, accessories, and Fairtex fight wear.

All Fairtex sportswear is manufactured in the Fairtex factory. You can expect the same high quality as our Fairtex fight gear.
Become a Fairtex distributor and register your wholesale account now!
If you are a sports shop, fight shop our gym owner you can register your Fairtex wholesale account with us. We guarantee you the best prices. We can also discuss exclusive distribution for your area.
All Fairtex t-shirts, accessories, and fight wear on the website are in stock and ready to be shipped. We ship worldwide with DHL Express for the best rates available.

Subscribe to our monthly Fairtex newsletter and be notified about end of season sales and special deals. Sign up is at the bottom of the page.
Limited Edition Fairtex 50 Year Anniversary T-Shirt
2021 is a huge year for Fairtex. We celebrate 50 years of bringing you the best sportswear from Thailand. To celebrate we are launching a limited edition run of shirts. We have created four designs to mark the event. Each custom design will be released at the beginning of each season.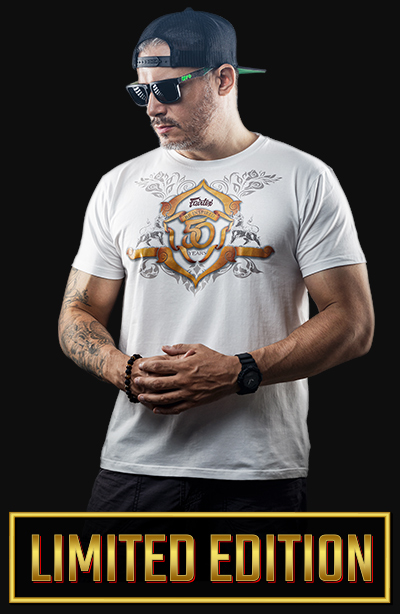 Fairtex Creating Muay Thai Champions For More Than 50 Years
Fairtex has trained Muay Thai champions from all over the world. To celebrate our heroes we have developed a signature line of T-shirts for each of our heroes. Learn about how Stamp overcame bullying, why Y2K was born to be a superstar, how Wondergirl has Muay Thai in her blood, and more.

Support the sport, support the stars.